Running in the Azalea Trail Run.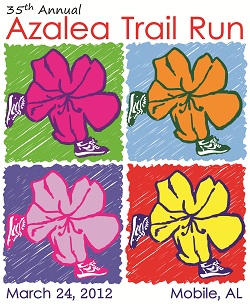 I have a 5k Race this weekend and I believe it might rain so just in case I want to be prepared. This will be my first race where I had to run in the rain. I have been doing a lot of research online and speaking to my running buddies and I wanted to share what I have found.
Every person I spoken to said I need to make sure and have a hat. The brim helps keep water out of your eyes and your vision clear. The roads are already going to be slippery enough without having your vision impaired. Now everyone knows I always run with a hat after the time my bangs crossed the finish line before my body and the finish line photo was the proof of this! I love a mesh style hat so it doesn't hold water.
Tip #2 I need to wear my waterproof light weight jacket. I just purchased a new Nike very light weight water proof jacket so it will be fun to put this to use. My only issue is I hate to be hot so I have to remind myself dry smooth skin is better than hot wet skin.
If you are like me and carry an IPhone for music and running apps have either a waterproof case of a zip lock bag to store your phone to protect it from the rain. This is very important because as you know it only takes a little bit of water to destroy your phone.
Either one of these would work great!
One of my friends that runs in a lot of races said I should coat my feet with petroleum jelly to prevent blisters. This one is going to be a hard one. I just cant imagine the feeling and how I would handle this. We will just have to see plus I am only running a 5k so I might skip this step. In the future in my long distance runs I might put this tip to the test. It was also suggested that I run in old shoes but I was just fitted for shoes about 3 months ago and the shoes before were not made for my feet so I think I will stick with my current running shoe. I don't want to risk an injury due to wearing the wrong shoes but if I did have a pair like my new set I would use this tip!
I will have a set of dry clothes for after the run in hopes that the sun comes out. I love this tip...... stuff shoes with old newspaper to help them dry out quickly. I was told to never put them in the dryer because it damages the infrastructure. I will bring y old pair to put on after the race and have paper ready to stuff in my new pair to start the drying process.
If you have any other suggestions or tips for runs in the rain please share!